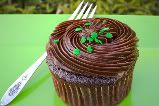 Makes 12 cupcakesCupcakes:
2 large eggs
1/2 cup plain, thick yogurt
6 ounces Irish stout (like Guinness)
2 teaspoons vanilla extract
1/2 cup cocoa powder
1 cup sugar
1-1/4 cups all purpose flour
1 teaspoon baking soda
1/8 teaspoon cinnamon
6 tablespoons unsalted butter, melted
Cream Cheese Frosting:
8 ounces cream cheese, softened
4 tablespoons unsalted butter, softened
1/2 teaspoons vanilla extract
4 cups powdered sugar
Directions:
1. Preheat oven to 350 degrees F. and line a 12-cup cupcake tin with liners.
2. Beat eggs and yogurt in a large bowl. Beat in stout and vanilla. Combine cocoa powder, sugar, flour, baking soda and cinnamon in a small bowl. Beat dry mixture gradually into egg mixture until well combined. Beat in butter until smooth.
3. Pour batter into prepared cupcake tins and bake 25 minutes or until a toothpick inserted comes out clean. Remove cupcakes and let cool on a wire rack while preparing frosting.
4. To make frosting: Beat cream cheese, butter and vanilla until well combined. Beat sugar in gradually until smooth and combined. Spread frosting on cooled cupcakes.